Astoria, NY Intercom Systems Installation
With more than 20 years of experience, serving multiple businesses in Astoria, NY, Total Security has been able to create safer environments for both commercial and residential clients. Our intercom security systems have helped businesses ranging from small local brick and mortar stores to large enterprise-level organizations and government agencies.
Regardless of industry, location, or size, we can help improve your security system so you can repel criminals.
Do you need immediate assistance with your home or office intercom system? Please call (516) 775-2304 or contact us online here to get a FREE on-site quote.
Our Process & How It Works
For every client, we first provide competitive onsite quotes where we tell you exactly what you need and how you can greatly benefit installing a new intercom system.
We then create a system that integrates with your current set up. Our professional intercom installers in Astoria, NY will install, set up, and test every system minimizing business downtime or interruption.
Step 1: Our Security Consultant visits your business to assess your needs.
Step 2: A thorough proposal, outlining the type of work, is created, and sent to you.
Step 3: If necessary, Board Approval may need to be obtained.
Step 4: After the Board meeting, any questions are addressed.
Step 5: You or the Board give final approval for the scope of work.
Step 6: The installation of intercom systems is scheduled.
Does your commercial building or apartment building have an immediate need? Please call (516) 775-2304 or fill out our form to request a free onsite estimate.

Top Reasons for Intercom Replacement or New System Installation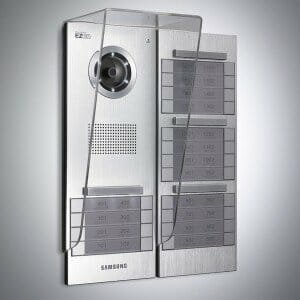 Reason #1: Enhance Building Amenities as a Landlord
As a landlord, you strive to provide your tenants with the best possible experience. There is no question. Upgrading your intercom system is one way to achieve this.
An intercom system brings numerous benefits, including improved security and convenience. Tenants will have an easy way to communicate with you or building staff, especially in case of an emergency. Moreover, adding an intercom system fortifies your property by providing an extra layer of security.
Screening visitors before they enter the building helps ensure the safety of your tenants. Installing an intercom system for apartments or residential properties in Astoria is a smart way to enhance the amenities your building offers.
Reason #2: Outdated Intercom Systems (Over 30 Years Old)
Apartment building managers should be aware of the security risks posed by outdated intercom systems. These systems serve as the first defense against intruders and if your intercom exceeds 30 years, it may not provide adequate protection to your tenants.
Total Security's modern intercom systems offer enhanced security features such as keypad entry or card readers, making it difficult for unauthorized access. Outdated intercom systems may lack this level of security and leave the building vulnerable to intrusions.
Furthermore, neglected systems may also become fire hazards. To ensure the safety of tenants and the security of your valuable property, it is crucial for building managers to maintain up-to-date and properly functioning intercom systems.
Reason #3: Replace a Broken Intercom System
A broken intercom system can cost business owners a great deal of time and money. The disruption to communication between employees, as well as with customers and vendors, can lead to inefficient operations, missed deadlines, and unhappy clients.
Moreover, having an outdated intercom system presents a security risk since it can leave an office vulnerable to invasion or theft. Therefore, it is essential for business owners in Astoria to replace a broken intercom system immediately to avoid costly setbacks and restore the safety of their workspace.
Replacing an intercom system with Total Security is incredibly beneficial for any business in Astoria, NY. Total Security will help you ensure the secure entry of customers, personnel or tenants (residential or business) by taking full advantage of access control technology for card-based systems, intercoms, door control, alarm systems and security cameras – all integrated together to create a comprehensive platform of defense and convenience.
Additionally, this intercom provides users with complete situational awareness as events are monitored 24/7, allowing businesses to make instantly informed decisions. Lastly, connecting these multiple security solutions with one intercom allows businesses to reduce their costs while still providing reliable security.
Why Hire Total Security For Intercom System Installations in Astoria, NY?
We at Total Security are thrilled to have maintained our A+ rating with the Better Business Bureau. Whether you need an Intercom System Installation or any of our other security systems services in Astoria, NY and nearby areas, you can rest assured that we'll make sure you're completely satisfied with the results. Our team of professionals have years of experience in the industry and will expertly install your new intercom system.We offer a variety of intercom systems to choose from, so you can find the perfect fit for your needs. When you have any questions, we are always here to help! Our ultimate goal is to provide you with the best intercom system possible, and we're confident that we'll exceed your expectations.
Our security consultants in Astoria, NY are well trained. They are here to help you put together a solid plan for keeping your business or apartment building safe and secure. They will listen to what you need and figure out the best solutions for you. Let us say you need better communication between employees and security.Our consultants can recommend an intercom system that will do the trick. They are always ready to share their expertise and help you get the protection you need.
At Total Security, we have the capability to efficiently design, install, maintain, and repair a full security system with minimal downtime. Our team of highly trained and experienced security professionals is knowledgeable about all types of security systems, enabling us to quickly diagnose any issues and restore the system to full operation. Additionally, we offer a 24-hour emergency response service to ensure that your security system is always operational.
In addition to designing and maintaining your security system, we are happy to help you learn how to use it and what to do in case of a security breach. We will work with you to make sure everything is in tip-top shape by scheduling regular check-ins and inspections. We are all about making sure our clients have everything they need to keep their businesses secure. Our team of experts is dedicated to providing the best possible service, and they'll make sure you have all the tools and knowledge you need to feel confident about your security.
Many intercom system installation companies in Astoria, NY fall short when it comes to post-installation support. Customers are often left to navigate the system on their own, with only minimal initial training provided.
We take a totally different approach. Our commitment to customer service extends beyond installation, and we provide comprehensive training to all our clients both prior to and after the installation process.
We are available to answer any questions and to ensure that you are maximizing the use of your intercom system. Customer satisfaction is of utmost importance to us, and we are dedicated to being a reliable resource for you, even after installation has been completed.
Our Astoria Intercom System Installation Includes:
Audio Only Intercom Systems
IP-Based Intercom System
Telephone Entry Systems
Video/Audio Intercom Systems
Virtual Doorman Intercom Systems
Schedule Your Intercom System Installation in Astoria Today!
We are here to help secure your business. Contact Total Security today for professional intercom systems installation in Astoria, NY. Please call (516) 775-2304 or get in touch online here to request your FREE quote.