How To View Business Security Cameras From Home
Security cameras have come a long way since when they were first invented. CCTV's were first used in 1942 by Germany to observe the launch of their V2 rocket launches. It wasn't until the 1970's and 1980's that governments started using CCTV cameras for security purposes. Today, modern day security cameras can do amazing things thanks to recent technological advances. There are wired and wireless security cameras which are high-def and can be installed in plain site or hidden. The best part of technology is that you can now see what your business security cameras record from the comfort of your home using a personal computer, a smartphone, or a tablet device. So how is it possible to view your security camera feed at home and what options on your security cameras are available to view? Let's take a brief look at how this works.
Remote Viewing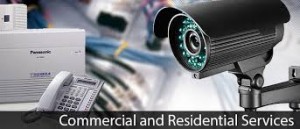 Thanks to technology, many security cameras that are hooked up in homes and businesses can run on a wireless network. By having your security cameras hooked up to the Internet, you can have the time recorded and sent to a data center so you can go back and view information when you want to. Thanks to smartphones, tablets, PCs, and laptops having the use of wireless technology, you can access this information from one of these devices in your home or where ever you have Internet access. Thanks to applications (apps) available on these smart devices, you can now remotely view your security cameras. You simply have to find an application suitable that will allow you to connect to your wireless security camera network, and you will be able to view this information in real time. Once you download the application, you will be able to have features such as:
Screen Shots: Some common apps will allow you to login viewing a quad screen shot with four cameras, and you will be able with a flip of finger scroll to your other cameras. You will be able to see a multi-screen shot or see one camera individually.
Live Stream & Playback: Security cameras will be in real-time feed so you can view events as they happen. You also have a view back option so you can view the feed from an earlier time.
Telemetry Control: Once you click on one of your cameras, you will be able to zoom out or zoom in and also have control to move that camera. If you see something that you think is important, you have the option to snap a shot of that frame and save it for later or even email the picture.
Updating Your Security Cameras & Tax Benefits
You may have security cameras at your business already that work off older technology, which can be altered or stolen. Having new security cameras will eliminate this potential hassle. Did you know that if you update your security cameras, you can use the section 179 deduction? The deduction was created as part of the Small Jobs Act of 2010 to help the economy but has been extended until the end of 2015. Under the section 179 tax deduction, you can deduct up to $25,000 for software and office equipment for every dollar spent.
Top Installers for Business Security Cameras
The comfort and ease available with modern wireless security cameras is second to none. You can have access to your security cameras even when you're not at the office from the comfort of your home or wherever you have Internet access.
Total Security has been building a reputation in the New York are for over ten years for being the best when it comes to timely installation, integrity, affordable rates, and top notch customer service. For a free quote and evaluation, give us a call today at (516) 775-2304 or contact us online.We're looking forward to hearing from you!