How Stadium Security Systems Can Be Beneficial During Sporting Events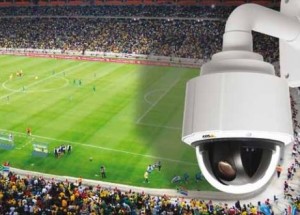 Tragic events and violence are not only limited to residences or the streets but also in stadiums where large crowds gather around. Any event held in a stadium or sports arena involves large numbers of people and is a possible target for criminal activity too. Stadiums in New York, especially those near urban areas and New York City present the largest risk due to the population density and crimes rates. With tens of thousands of people in close quarters, parents and children are at risk during every stadium event, where assault and robbery are possible.
Stadiums are places where ferocity can be expected from cheering masses and supporters of opposing teams. There have been cases where people got injured because of crowds going wild. Because large crowds gather during sporting events, security personnel should take appropriate measures to make sure these places are safe. This includes preventative measures, screenings, and bag searches. However, not all crime can be thwarted through these deterrents. Activities in and outside the stadium should be constantly monitored so that any threat or disturbance is documented.
The safety of people in stadiums should be a priority and the use of video surveillance camera systems is an excellent measure to help ensure the safety of the supporters, players, employees as well as the facility itself. Stadium security cameras installed at the right places have always been helpful in monitoring all activities, in and out the premises, and in identifying possible criminal activity. It is recommended to place video surveillance cameras near all entrances and exits, escape routes, ticket stands and offices, food stands, corridors, hallways, stairways, and parking lots to monitor the crowds and individuals coming in and out of the stadium. Captured videos of violence or images of criminals will make it easier for law enforcement to hold suspects accountable for their actions.
How Stadium Security Systems Can Be Beneficial
Ensures Safe Entry and Exit – The high number of people attending sporting events can cause uncomfortable situations while entering and exiting the stadium. Surveillance cameras allow wide monitoring at high traffic locations, ensuring safe entry and exit, as well as smooth passage around the stadium.
Mob Control – Emotions of supporters of opposing teams can get heated during sporting events. Oftentimes, excitement leads to violence. Security cameras can keep an eye for possible for brawls and conflicts amongst crowds.
Thwart Terrorism – Stadiums are ideal target for terrorists who can potentially harm thousands of people. Video surveillance can be an invaluable tool in classifying possible acts of terrorism.
Players Protection – The safety of athletes is important as well. There is always a threat of throwing things and physical attacks from watchers in the stands to players on the field. With the use of video surveillance, security personnel will be alerted and able to control the situation before it gets out of hand.
Remote Access – An IP stadium security system allows captured video streams and images to be sent and received over a local network or internet. Security personnel will be able to control surveillance cameras remotely and monitor footage from any device with network access.
Easy Installation – Security surveillance cameras can be mounted anywhere throughout the stadium, and they can communicate through a local IP network.
There are no limits on how stadium security systems can help ensure the safety of players, employees, and the crowd. The installation of security cameras is an essential investment that will not only safeguard the lives of people but as well as the life of any business. Be thorough in your search and make sure that your security company takes the time upfront to design a comprehensive security program that will be effective.