How Should I Store Surveillance Camera Footage?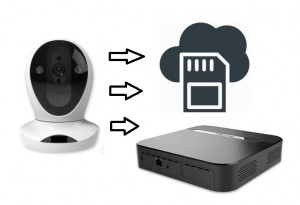 Have you ever thought about the most optimal way to store video surveillance footage that you have recorded?
In today's time, if you are a homeowner, it is crucial that you take the necessary steps to protect yourself, your family and your assets. One of the biggest benefits of installing residential security cameras is that they provide active monitoring especially when you are not home. Surveillance cameras help deter thieves, protect your properties and document crimes.
When thinking about installing security camera systems, it is important to plan out how you would like to record and store footage. Properly storing surveillance footage is beneficial to preserving evidence, which can be used in times of criminal investigations. When contemplating which storage option to choose, remember that as the amount of surveillance data increases, the requirement for storage space increases. So what are the available options for storing security camera footages?
3 Ways To Store Security Camera Footage
Internal Storage – DVR, SD Memory Cards, USB Flash Drives
When you use an internal storage device, you will be able to conduct real-time analysis of surveillance footage. Your security company will then be able to respond promptly in case of a security breach. Internal storage units are faster than external storage devices since once they are installed, they become a part of the overall security system. It allows you to download and upload any captured footage quickly.
External Storage – External Hard Drive
An external storage device is typically connected to a security camera system and computer through a USB cable and is easy to set up. Some of these devices may require you to install software or compatible drivers for them to work. Most users prefer using external hard drives since they offer a larger storage capacity and are available in different storage sizes. Video surveillance cameras record footage of larger sizes; thus, requiring massive storage space. Considering the amount and size of captured media files, external hard drives become the most viable storage option. They are also portable and durable.
Cloud Storage
How does cloud storage work? The cloud storage works by transmitting and saving the captured video files to a remote storage system, which can then be accessed anywhere as long as there is an internet connection. One of the reasons why it is becoming the most preferred option of storing security camera footage is that it allows data encryption. Data encryptions assure homeowners that no unauthorized users will be able to access any surveillance footage. Additionally, cloud services help homeowners save money. They eliminate the costs associated with conventional backup methods. Today, many cloud service companies offer adequate storage space at a low monthly cost.
Recording and saving surveillance footage require adequate storage space. When selecting which storage solution to use, it is important that you consider your security needs first, and then consult a professional to make sure that you are buying exactly what you need, and not necessarily more than you need either.
Total Security can help you decide which storage option to use. Call us at (516) 775-2304 for assistance.