How Nursing Home Security Systems Can Create a Nurturing Environment for Elders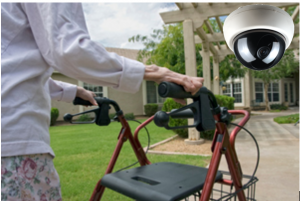 Nursing home security systems are a great way to prevent elder abuse and other unwanted incidents in elder care facilities. On a February 2016 Nursing Home Surveillance Report published by the New York State Office of the State Comptroller, there are 631 nursing home facilities that are currently active in New York State. Between January 1, 2007 and May 12, 2015, the Division of Nursing Homes and Intermediate Care Facilities for Individuals with Intellectual Disabilities Surveillance has received over 79,000 complaints and incident reports, of which more than 37,000 were investigated. (Source: http://www.osc.state.ny.us/audits/allaudits/093016/15s26.pdf).
The number of retirees living in nursing homes as well as the number of reported elder abuse incidents, has been continuously increasing making security a top priority. Installing security cameras in nursing homes is a great way to keep employees, patients, and visitors comfortable and safe from intruders, theft, vandalism and any suspicious behavior. It is important though to install the right security systems that will work best for your facility.
If you are managing a large nursing home, then installing a more in-depth security system will work best. However, for a smaller elder care facility, a less complex system will be sufficient.
2 Cost-Effective Ways to Improve Security in Nursing Homes
Surveillance Security Cameras – In installing security cameras, it is very important to first conduct a comprehensive security assessment of the facility to identify the areas where there is a high-demand for activity surveillance. It is recommended to install high definition surveillance cameras at entry and exit points of the facility. Cameras installed inside and outside the building keep the management informed about individuals who come and go. It is also important to install cameras on hallways and corridors as well as outdoor gathering areas like patios and decks to monitor day-to-day activities. Additionally, cameras can be placed in rooms if necessary for staff to monitor an elder's activity.
Access Control Systems – Access control devices can help protect patients from wandering into unsupervised areas that can be dangerous. Wandering is dangerous for people with Alzheimer's disease. A good nursing home should not seem like a prison but the elderly needs to be secured for their own safety. Installing card access and biometric systems will allow employees to control access to restricted areas.
Security cameras and access control systems may help to ensure the safety of the elders in assisted living facilities, however nursing home staff should report any abusive behavior of other members. Reporting elder abuse and neglects should be a top priority.
When you are not present to see firsthand how loved ones are cared for, the unknown can create doubts about the level of safety and care they are receiving. Installing the most appropriate nursing home security systems will help assisted living facilities create a warm and nurturing environment for patients. And it will help create more accountability at the residence.