How Much Does a Card Access System For a Business Cost?
Your business security needs will often depend on the type of business you run. A jewelry store can often get by with one or two cameras and an alarm system. A warehouse may have similar needs. However, if you have many employees who come and go at different times, or whose comings and goings you need to be able to keep track of, then a card access system is one security solution you may want to add to your defenses.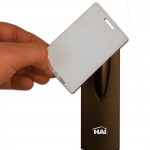 Card access systems are a form of access control. Access control is a kind of
security which allows you to determine who is able to gain entry to a given facility, area, or room and at what times. It also typically allows you to see who gains access and when. In the case of card access systems, a number of employees or other individuals whom you want to be able to access your facility are given credit card-sized access keys which they can swipe in a swipe card reader or simply wave in front of what's called a proximity card reader, for example. A proximity card reader is able to read a card from a few inches away.
Your main concern, however, may be the cost of a card access system. Is it affordable? Or is it the kind of technology only big, well established businesses can really afford. The cost of your card access system will depend on several simple factors, which we'll briefly discuss below. But the good news if that they are affordable, and a top-notch security company like Total Security can work with your budget to offer you an efficient card access system to make your business as secure as possible for a reasonable price!
Number of Employees
The number of employees you have may help determine which card system is best for you. An expert can guide you in choosing the technology that will be both most efficient and cost-effective for your business. A high turn-over is one example of a factor that could effect this decision. If you are often hiring new employees and thus going to need new ID cards often, this information will be helpful in making the right decision for the best system for you.
Number of Entrances
The number of entrances will impact the cost of your card access system. The more entrances you have that employees use, the more card readers you'll need, and the higher the cost. If you have many entrances that you'd like employees to be able to use but have a tight budget, that will impact your decision on which card access system to install.
Tracking Your Employees
Some business owners simply want to be able to control who can gain access to the building and who cannot. For these purposes, all that is required is a system which allows your employees to enter using their card. However, if you'd like to be able to track who comes and goes and at what times, a more involved system will be necessary. Many business owners would like the ability to generate at any time an activity report on employee attendance, lateness, and other details.
This feature is not only helpful to the business owner by providing important information on the whereabouts of employees at any given time, but also provides a high level of accountability for employees. These systems provide them with additional motivation to get to work on time and helps create a sense of legitimacy about the company they work for.
The Security Company You Choose
While the prices of card access systems may be similar across the board for most security companies, the price of installation may not be. Additionally, the integrity of the folks operating the security company is a factor. To find the best prices, you need to find a security company which is excellent at fast and efficient installation, as well as one which genuinely cares about the safety of your building and your need to stay within your budget. Some security companies may find ways to drive up the price, such as claiming that you need more hardware than you really do. Read reviews and look for a company that is known for top-notch customer service and which has an A+ rating with the Better Business Bureau.
Total Security – The Most Affordable Card Access Systems for Businesses
In addition to offering timely installation and reasonable rates, the folks at Total Security are committed to honest dealings with our customers. We genuinely care about the security of you, your people, and your business, and we are sensitive to your budget. We do all we can to provide the best security systems possible for the most affordable prices you can find. Your safety and satisfaction with our services is more important and valuable to us than finding subtle ways to increase the price of your security solutions.
For a free quote on a card access system for your business, contact Total Security today at 516-775-2304 or visit us on the web at www.totalsecurityny.com. We look forward to helping your business become as safe and efficient as possible for the best price around!