How Long Do Commercial Intercom Systems Take To Install?
Intercom systems are a great part of today's security for businesses and can offer a wide range of security options and tax incentives. Intercom systems can take time to install if you are installing them commercially for your business. Today, we will show you part of the installation process and why it should be handled by professionals. Let's get started!
Installing a Commercial Intercom System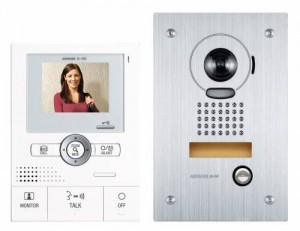 The following example is a wired intercom system and gives a general outline of what needs to be accomplished.
To start, you will have the model of your intercom and all the parts for your intercom system whether a simple voice-only intercom or an advanced digital model. When you've chosen where you want to place your intercom box with a wired system, you will cut out the drywall where you would place the unit. Next, the back side of the unit is where you would make your termination connection. This is where you run cat five wiring through the walls by simply plugging it into the back of the faceplate. Each module has a separate line that runs to where there is a central distribution point.
There will typically be a central distribution point where the intercom modules will be installed and will give the intercom power. Additionally, any extra intercom lines that you have set up in different rooms will need to have that line fed into the central distribution point where the cat five will be plugged in.
The professional you have install your intercom system will have to verify that all the lines are good connections with their testing tool. The testing tool will verify that they have a good connection to all the conductors and then you can plug in the lines. After this is done, a trial run of the intercom systems to make sure they all work.
The Benefits of Your Commercial Intercom System
Intercom systems are important for various amounts of reasons for your commercial needs. Here are some of the top reasons business owners purchase commercial intercom systems for their businesses.
Top Notch Security: You will always be able to know who is at your door thanks to the intercom system. Whether it is a person dropping off supplies or a customer, you will always be able to identify who is at the door before deciding to let them enter or not. Intercom systems with security cameras built into them are some of the newest and best models of intercoms.
Increase Value & Lower Costs: Your property will be worth more when there are security updates like an intercom system. This will add real value to your property, and it will lower your insurance premiums.
Creates Internal Communications: If you need to get ahold of another department at your business, it is quite easy to use the intercom system. Being able to get a hold of other departments will lead to an increase in productivity and may increase profit.
179 Tax Deduction: First introduced in 2010 as a way to increase small business activity, the 179 tax deduction allows you to deduct up to $25,000 worth of equipment and software for your business and is good up until December 31, 2015 – this includes intercom systems.
Letting Professionals Handle Your Installation
As you've seen from the information above, installing a commercial intercom can be a complicated process and that was only a small sample of what a professional security installer will go through when setting up your commercial intercom system. The experts at Total Security will help you choose the model that is right for your business. Total Security will make sure you are totally satisfied with your intercom system and that you fully understand all of its functions and uses. Give Total Security a call today at (513) 775-2304 for a free estimate.