Find The Best HDCVI Camera Installers in Nassau County
It used to be that business and home owners who wanted or needed to be able to monitor the activity in or around their business or home had two basic options – analog cameras or IP cameras. This left them with a dilemma: should they buy cheap, simple, user friendly, but low resolution analog cameras, or expensive, complex, high resolution IP cameras?
That dilemma has now been eliminated with the development of what's called HD analog technology, which effectively combines the affordability, user-friendliness, and compatibility of the old analog cameras with the high definition of the IP camera. Today, affordable and easy-to-use high def cameras are available to anyone who wants or needs them. The only question is of finding the right experts to install your system.
Below, we'll talk briefly about what makes for truly great installation, as well as why the folks at Total Security are the best HDCVI camera installers in Nassau County.
Proper Camera Locations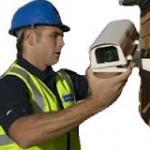 The right security camera installer will not only know how to install a camera, but how best to position them so that they are as effective and efficient as possible. It is possible to improperly position security cameras so that they are not each optimally used, which can lead an inexperienced installer to use more cameras than would have been necessary if they had been positioned correctly.
Mistakes like these will effect the cost of your total package by charging for more cameras than you actually need. Additionally, if cameras are not properly positioned, it could leave small pockets or areas of your business or home vulnerable or out of the camera's line of sight. This is not advantageous in the event that you need to go to court with video evidence that is unable to accurately identify a suspect due to poor camera placement.
Proper Installation
Be sure to work with an installer who is well reviewed and who has a reputation for efficient installation. If your camera installer makes small mistakes due to laziness, inexperience, or other reasons, you'll have to arrange for them to return or pay another company to come fix the problem if you no longer trust the initial company you hired.
Integrity and Genuine Customer Care
Some companies are more genuine in their concern for the safety of their customers than others. Other companies may find subtle ways of increasing the cost of installation. For example, if you get off the phone with a potential security camera installer and find that you sensed you were just another potential paycheck – just a number – then consider moving on.
Additionally, if you get the feeling they're not being totally honest with you about how much will really be required to protect your property, it's possible that they are attempting to sell you more hardware than you actually need. Go with your gut in those situations and keep looking for experts who make you feel at ease and who seem honest in their assessment of your particular security needs.
This might not seem like an important issue to some, but the safety of your business, home, employees, or family is something a great security installation company will take extremely seriously, and you should get a strong impression of this when you speak with them.
Total Security – Best HDCVI Camera Installers in Nassau County
At Total Security, we take the safety of our customers extremely seriously because we care about their employees, families, and assets. Our customers are not merely numbers to us, but members of our community who need the protection we can provide. We've worked hard to build a reputation for timely and efficient installations, proper security camera positioning, honest and straightforward business, and the most reasonable prices around.
If you're looking for a company to install HDCVI cameras, you've found the best in Nassau County. We would enjoy the opportunity to speak with you about your particular security needs and give you a free estimate on a package to meet your budget. To begin the process of making your home or business as secure as possible, call us today at 516-775-2304 or contact us online. We're looking forward to hearing from you, and to helping you sleep better at night with a great surveillance system!