Factors to Consider in Planning out Restaurant Security Systems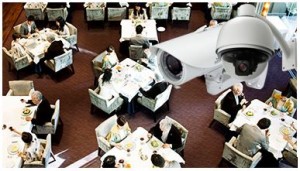 As a restaurant owner, you dedicate your time and efforts in order for your business to succeed. Unfortunately, there are many challenges in maintaining a restaurant. Like many businesses, you need to carefully manage your inventory, deal with cash losses from dishonest customers or employees as well as decrease your restaurant's susceptibility to burglaries. You need all the help you can get to protect your business—and your bottom line.
One great way to reduce the losses in your restaurant is by installing a quality security system. However, you probably think that choosing the right restaurant camera system is not as hard as organizing your menu. You might want to think again. Restaurant security systems require thought and attention to detail; not planning them well can cost you more than what you've probably invested.
The presence of surveillance cameras can prevent customer or employee theft. Security cameras will serve as a reminder to customers and employees that they are being watched and any criminal activity will be caught.
In case of a robbery, a quality video surveillance system will provide a witness to everything that happens inside the restaurant. Captured video can be played back and provide evidence of what exactly happened. It will also give you an idea on how to prevent any future problems from happening.
To help you improve your restaurant's security, here are important factors you should consider as you plan out your security system.
Type Of Restaurant – This will help determine your security needs. If you are managing a fine dining restaurant, you don't have to worry about robberies as much as if you are running a fast food business.
Business Hours – Your business hours have a direct influence on your restaurant's susceptibility to burglaries and robberies.
The Size Of Your Restaurant – How big is your establishment? Knowing the size of your restaurant will help security installation professionals know how many and what type of surveillance cameras they need to install. The bigger the establishment is, the more protection you need.
Cash Transaction Location – Where will money be counted and kept? Installing surveillance cameras on where all money transactions take place can cut down employee theft.
Parking Lot – Aside from installing security cameras, you also have to think about lighting options. Will your customers feel safe walking to their vehicles at night? Having a well-lighted parking lot also helps people see your restaurant from the road.
When searching for a restaurant security company, you want to find one that has the experience in working with restaurants. You also might want to consider a company that has gained reputation and positive reviews from previous clients.
Taking into account these tips will help you find the right security system for your restaurant. Remember, installing the right camera systems can help you protect your investments and save money in the long run.
And if you have any questions about what would make sense for your restaurant, feel free to reach out to the Total Security team at 516-775-2304.