Easy and Affordable GPS Tracking of Company Vehicles
The way we are doing business is changing each and every day. Thanks to technological advances in modern day technology, we now can track your entire fleet of vehicles using GPS tracking. GPS tracking is easy and affordable – even small businesses can afford this essential service. Today, we will go over the benefits of having GPS tracking for your vehicles and why your company can't afford not to have this technology. Let's get started!
Reduce Fuel Costs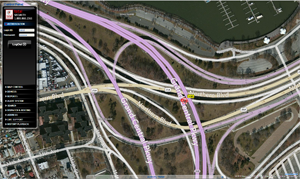 Providing fuel for your business vehicles can be expensive, especially when gas prices go up. GPS fleet tracking can help you reduce fuel costs by:
Reducing Vehicle Speed: GPS monitoring can keep an eye on drivers who go above the posted speed limits which ends up costing your company more.  The speed monitoring feature of the GPS tracking system helps drivers to slow down, thus reducing fuel costs.
Decrease Idle Time: According to Ford Motor Company, every hour of idle time is equal to 25 miles of driving. With the GPS tracking system, you will be notified of a vehicle being idle for excessive periods of time. As a business owner, you can look at the idle reports to find out if any of your drivers is leaving their vehicle idle, allowing you to address the issue with the driver.
Improve Routes: Since your dispatcher will have the location of your fleet vehicles because of the GPS system, you will be able to help them avoid any accidents or traffic jams via another route to their destination.
Vehicle Maintenance: The GPS tracking will identify which one of your vehicles is in need of maintenance by keeping a record of mileage and which service may be needed for that fleet vehicle. Notifications will come to you via email.
Reduce Labor Costs
Payroll issues in your business can cost you time and money, but with GPS tracking, you won't have to worry about this anymore. This service eliminates time sheet hassles by providing value information about your fleet through online reports. The GPS tracking will give you an electronic time sheet, and you'll have access to important data.
Increased Productivity
With GPS fleet tracking you can expect the following:
Always know where your vehicles are
Reduce human error with automated time sheets
Get automatic daily and weekly reports via email
Expand your business due to improved dispatching
Increase Business Growth
Because GPS data allows you to monitor your profit and losses with more detail, you will be able to increase your sales and expand your business. This ensures long-term businesses success along with job creation, allowing you to be more competitive and profitable.
Increase Fleet Security and Safety
At all times, you will be able to know where your vehicles and drivers are. With GPS tracking, you will be able to respond easily to emergencies knowing exactly where to send authorities if a driver is unable to respond or communicate. You will also be able to reduce vehicle speed to prevent unwanted tickets and avoid accidents. If one of your fleet vehicles gets stolen, it can easily be recovered thanks to the GPS installed.
Tax Incentives
Thanks to the Small Business Jobs and Credit Act of 2010, you can take advantage of section 179 tax deduction to lower your cost of acquiring GPS tracking units for your fleet vehicles, equipment, and assets for purchases up to $25,000. This tax deduction is only available until December 31, 2015.
Top Affordable GPS Tracking – Total Security
As you can see, GPS tracking pays for itself. You will be able to save money through increased production, fuel savings, and increased safety, all while increasing territory growth and sales. You will also be able to deduct up to $25,000 worth of equipment and software from your business taxes. Call Total Security at (516) 775-2304 or visit Total Security online today to learn more and get started with GPS tracking for your fleet today.