City of Boston to Add Security Cameras in Future Events in Wake of Boston Marathon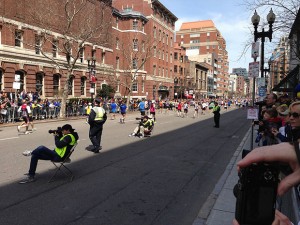 According to the Boston Herald, the city of Boston will be adding on dozens of security cameras in the wake of the tragic bombing at the Boston Marathon last year.
"We learned our lesson from what happened on April 15," said Secretary of Public Safety, Andrea Cabral in a phone interview with the Boston Herald, in reference to the Boston Marathon Bombings that killed three people and injured dozens of others.
A majority of the additional surveillance cameras are portable. This works perfectly because the city of Boston can use these cameras anywhere at any time. They used 80 of these cameras for the celebration of Esplanade just months after the Boston Marathon.
"You don't want them everywhere, but we definitely want to use them and we have them when you need them," said Cabral. "If we fixed them and left them up, people would begin to feel every place they went, they were under scrutiny. That probably would be justified."
It's important to have a good balance. As Cabral stated, people would feel they were being scrutinized if they were everywhere. Having portable surveillance cameras is the perfect solution because you have them as needed. For larger events, you have more cameras.
For smaller events you may need less, so you could use less. Hidden surveillance cameras could even be rented for smaller private events, which could pay for the cameras themselves.
The only good fortunate that came out of the Boston Marathon tragedy is that stores happened to have high resolution spy cameras that helped the Boston Police track down the men responsible for arming the bombs.
If it weren't for the surveillance cameras from these stores, there's a chance that the bombers could have gotten away with their crimes.
It's not crazy to think that something like this can happen in a larger city, more specifically, New York City.
Large events such as marathons are normal in New York City. The New York City Marathon has more than 45,000 participants on an annual basis. In a city as populated as New York, the damage could be much greater.
As they say, the best medicine is prevention. It's a lot easier to make sure the problem never happens in the first place. Most importantly, you are prepared and taking care of the problem before anyone or any place is in harm.
Security camera companies in New York City and the surrounding area offer easy, affordable and top-quality surveillance service. They have a sense of urgency and can have intercoms, closed circuit televisions, surveillance cameras installed quickly to protect the public whether it is for an event, business or residence.
For additional security tips and the latest news, LIKE our Facebook page. To find out more details on how to help protect your home or business with security cameras, call Total Security at: 516-775-2304.