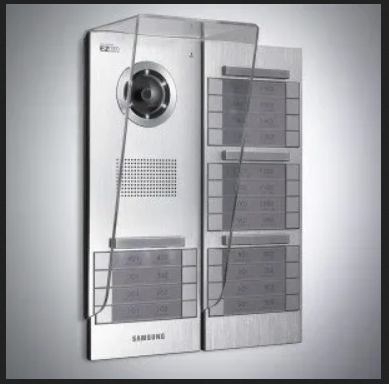 Apartment buildings are an appealing target for criminals, and many apartment building managers don't have the time to always keep up with the latest security trends. But, that's okay. Total Security's residential intercom systems provide a variety of advanced features that can help protect your New York City and Long Island building from theft, vandalism, and even terrorism.
Our staff is highly trained in both technical support and security measures. We will work with you to design a custom security solution that fits your specific needs and your budget so you can focus on running your business.
Integrating Modern Video, Audio Technology Available
Vandal-Proof
Weather-Resistant
Zoom, Tilt, Pan & Views
Hands-Free & Handset Models
Mobile App Door Release & Remote Access
Virtual Keys For Service Providers & Guests
Extensive Selection of Contemporary Designs
To learn more about upgrading or installing apartment building intercom systems, contact us here for a FREE assessment or call (516) 775-2304. We service apartments and other residential buildings in New York City and Long Island, New York.
How Does An Audio/Video Intercom Systems For Residential Buildings Work?
A video intercom system is an excellent way to provide residents with a sense of security while they live in your building. Residents would never have to worry about who's on the other side of their door, granted that it was installed at the entrance way!
A video intercom system is installed right by your entrances so people can't get past without being seen; this eliminates any worries or concerns as you know for sure what could be waiting outside when someone knocks on your front door!
When it comes to the safety of your apartment building, you need every advantage at your disposal. And, that's why installing individual video intercom units is so important for a housing complex or apartment building with no gate and unreliable access control such as card readers.
Our system works by having each tenant view their front door from inside their own unit when someone knocks on theirs; this way they can see who is there before opening up–not just relying on identification cards.
If you have an audio intercom system installed already, consider upgrading to a video intercom system for added security. With the video intercom, tenants will be able to see and hear visitors with crystal clarity through their monitor inside of their unit — even in dimly lit areas!
The 24/7 communications offered by this upgrade are great too because they provide simple two-way communication at your fingertips that's as easy as pressing a button!
When you install a video intercom system by Total Security, it will be integrated with the other security systems in your apartment building. We can help determine where to best place the camera for optimal viewing and control of all entrances into your property from one central location. And, we'll create an installation package that meets budget constraints so you don't have to worry about overspending on our services.
Apartment Building Intercom System Installation, Replacement & Upgrade
Efficient and effective communication is a vital component of any building's safety, security, and management. The installation of new or upgraded intercom systems in apartment buildings can help to achieve this goal while also providing other practical benefits such as increased resident efficiency and convenience. In addition to these specific advantages, the implementation of an intercom system upgrade could have a positive impact on your property value.
As we all know, the current economic climate is tough. In order to attract and retain tenants in this competitive market, many property managers are looking for creative solutions. One such solution that has been growing in popularity is upgrading the building's intercom system to a more modern version with video capabilities.
Upgrading an outdated intercom system or installing a brand-new intercom system can have a positive impact on your property value and result in increased revenue over time by attracting new tenants who want high-tech amenities.
Connect With Us To Schedule A Consultation
Ready to upgrade or install a new intercom system installation? Call (516) 775-2304 or contact us online for a FREE estimate.