Analog Cameras vs. HDCVI Cameras
Security cameras have become a necessity for today's businesses and many homes. With one burglary taking place every 14 seconds in the United States, it's not difficult to see why. Without this technology, your business is vulnerable. But is video surveillance affordable for a small business in the New York area? Is it realistic to set up security cameras to protect your home on a budget? The answer is, "YES!"
Below, we'll take a look at your affordable security camera options and what the differences are.
Recent Advances in Technology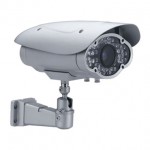 Until recently, there were generally two choices when it came to security cameras – analog and IP cameras. Analog cameras are the old, low resolution cameras which are easy to set up and which require very little maintenance. The security camera industry started on these old models. IP cameras are newer, higher definition cameras which hook up to the Internet or a private network, are much more complicated to set up, require more maintenance, and which are significantly more expensive.
If you wanted affordability, analog cameras were the way to go. However, they don't provide the kind of definition necessary to accurately identify a suspect in many cases. If you needed high definition and had the funds to afford them, IP cameras were the obvious choice.
Now, there's a new option which makes high definition cameras available to businesses and individuals with a tighter budget.
HDCVI Cameras
HDCVI (High Definition Composite Video Interface) are a recent advance in security cameras, combining the affordability and easy-to-use benefits of analog cameras with the high definition of IP technology. They are compatible with older analog technology, so in some cases an expert can simply unplug your old camera and easily install a new HDCVI camera. No more low definition, and no need for a complex and difficult to maintain IP system – HDCVI and other similar recent technologies are becoming the new standard.
Total Security for Your HDCVI Needs
Total Security has been serving the New York area for over ten years with the very best customer service, most timely installations, and most affordable rates you'll find. Our dedication to the safety of our customers has earned us an A+ rating with the Better Business Bureau. If you're looking for affordable and efficient HDCVI security camera installation, you've come to the right place. We would love the opportunity to talk with you about your particular security camera needs and give you a free quote on HDCVI cameras for your home or business. Call us today at (516) 775-2304 or visit us on the web at www.totalsecurityny.com. We're looking forward to hearing from you!