According to Wikipedia, there are over 6,000 high-rise buildings in Manhattan, which doesn't include the many buildings that aren't considered a high-rise. Installing access control systems in your Manhattan building, facility, offices, and other restricted areas allows you to monitor access in these areas and to keep unwanted personnel out. Total Security offers various access control systems to suit your business' needs and keep your operations running efficiently.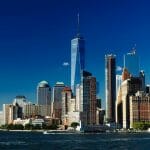 Whether it's a hi-rise building, a commercial building or an apartment complex, for example, we can help you determine which system is right for your property, what the proper access points are and help create a package to meet your budget. Call (516) 775-2304 for a free onsite evaluation.
Decide On Access Points & Who Gets Access To Them
Our trained technicians will walk through your facility with you and help you determine where you should create access points. We can advise you on the best type of access control system to install in different locations to help address your business' individual needs. Once you decide on who has access and where we can begin to implement these systems.
Card Access Control Systems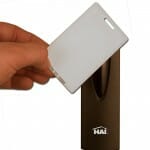 Many businesses in New York City utilize proximity cards as their main access control system. This is ideal for both large and small companies and are extremely easy to manage and distribute. The cards contain small radio transponders that identify the holder to the system. To provide access to a building or restricted area, the card simply needs to be held near the reader. These cards are the size of a credit card and can be printed with the owner's picture for added security. We can order any brand upon request; however, we often install Honeywell, Keri, GeoVision, Kantech, and Linear products.
Biometric Systems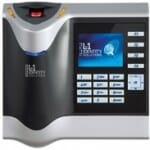 Many businesses in Manhattan utilize biometric systems when they need to create higher-level security clearance. Banks, corporate offices and medical facilities are some of the common businesses that take advantage of this type of access control system. Biometric systems include fingerprint-readers and key-pad readers. They can be used for access control as well as time and attendance records. These are very effective and powerful security access systems, especially when combined with other access control systems.
Do I Really Need An Access Control System?
Generally, yes. If you own a business and want to protect the general public from having access to your facility, need to keep employees out of restricted areas or have sensitive material or product that needs to be off-limits you need an access control system.
Access control systems can be set to allow employees access between specific times or only during work hours and can even be set to allow cleaning people in the building in the evening.  These systems can track who comes and goes from your facility or in specific areas and can serve to track time and attendance for you as well. You will have the ability to immediately generate an activity report on any employee's comings and goings within your facility.
Additionally, installing an access control system eliminates the need to hire multiple security guards for your Manhattan business. It is cost-effective and in the event of employees quitting or being fired you can easily remove their access without having to worry about changing the locks to your building.
Who we serve:
Small, Medium and Large Businesses

Property management companies

Apartment buildings and complexes

Enterprises, Institutions

School Systems

Athletic centers and buildings

Medical and biotech buildings and companies

Any company or building that needs to restrict access
Total Security Can Make Your Business More Secure
Access control solutions from Total Security Integrated Systems can help manage any security and safety challenges for businesses in Manhattan, New York City. Total Security is a full-service security system installer with over fifteen years of experience in installing access control systems and security systems. Regardless of the size of your business Total Security has access control solutions that are designed to meet your specific needs. Access control systems can be installed on interior or exterior doors, gates and vehicle entry points and allow you to monitor who is entering each of these areas and when.
Call our support staff at (516) 775-2304.  We offer FREE onsite security evaluation. Contact us today!