3 Signs Your Home Security System Is Outdated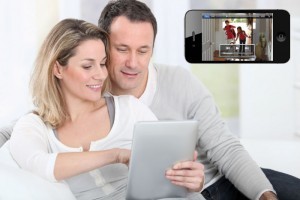 Burglaries have become much more common than ever before on Long Island, NY. Based on the crime report released last June 2015 at Newsday's website, Nassau County had 1, 927 and Suffolk County had 3, 291 recorded incidents of property burglaries (Source: http://data.newsday.com/long-island/data/crime-statistics/local/). Protection from this type of crime is one enough reason why home security systems should be installed on every type of household.
Installing a combination of security camera system and burglar alarm system will provide peace of mind for every family, making them feel more secure knowing that they and their assets are well-protected, especially at night time or whenever they are away from home. The presence of security cameras frees parents from stress should their children forget to lock the doors when in a rush to go somewhere.
If you have installed security devices years ago, they may no longer offer you full protection from today's burglar tactics. It is important that you take advantage of the latest technological innovations in the home security market.
Here are 3 signs your system might already be outdated and that you need to upgrade your alarm or security camera systems.
If your alarm system still uses wired sensors and that they are still connected to phone lines, then you are an ideal target for modern burglars. You should upgrade to an alarm system that uses wireless sensors. Additionally, if your burglar alarm system still uses phone lines to connect to the authorities, then your security system is outdated. Today's burglars know that they can easily cut the wires without worrying if the police will be alerted. They can easily enter and have the freedom to steal your valuable items. The latest home alarm systems can help you communicate with the police in a faster and more secure way. Having wireless alarm systems at your home will help deter any criminal who is planning to break into your house and for the authorities to easily respond to emergency situations.
It is time to upgrade your home security camera system if you are still using cameras that have low-resolutions. Surveillance cameras with high-resolution can capture a clearer picture of anyone who tried or has broken into your property. They also have the ability to record footage for longer hours and have larger storage capacity. The authority will find it easier to match photos of the criminals with the ones stored in their databases, thus helping them to arrest the responsible individuals. You may choose to install wireless or IP cameras which provide an option to monitor your house while you are away or at work.
If your alarm system still uses a single keypad or doesn't have a keypad at all, then it is time to change it. Older versions of burglar alarm systems can easily be disabled by just destroying the keypad and if destroyed quickly, you will not be alerted or not alarm the police. You should use a home alarm or intercom system with wireless keypads.
When upgrading your home security systems, it will be a good idea to work with an experienced security system company. Work with them on putting together a security plan that will allow you and your family to be prepared in case of an emergency. Hire a company that will keep you updated with the recent technology and provide you with the best security option. Choose a company that cares about the safety of your family.