20 Year Old Man Opens Fire in New Jersey Mall on Nov. 4, 2013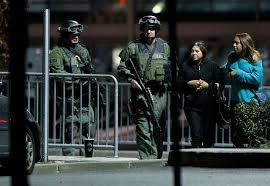 In less than 40 days there has been another shooting at a mall in the Greater New York area.
This time the scene was the Westfield Garden State Plaza in Paramus, New Jersey. At approximately 9:20 PM on Monday night, a man dressed in all black, wearing armor and a motorcycle helmet opened fire at the crowded mall filled with more than 4,000 people.
The man, 20 year old, Richard Shoop of Teaneck, New Jersey. Shoop was found dead with self-inflicted gun wounds within an area that was under construction in the mall.
As many as 600 of those people were locked in various stores, hiding for their lives.
Spectators described the sight of the shooter as if it was from the scene of a horror movie.
"It was almost like when you're watching a horror movie and the killer is walking slowly," said mall employee, Allie Kozic. "As soon as I saw the gun, I ran."
Miraculously, there were no victims. Nobody was killed and nobody was injured, despite authorities saying that Shoop had fired at least six rounds out of a rifle that was modified to look like an AK-47. The only victims were a few security cameras that Shoop took out.
"This was a nightmare scenario but fortunately it didn't become a nightmare," said Bergen County Prosecutor, John Molinelli. Authorities strongly believe that Shoop had no intentions to hurt anyone, as there were several people in reach of the bullets but remained unharmed.
With a second shooting in about a month, this raises the question concerning mall security. Fortunately, in the two instances, deaths and injuries have been limited. With a mall which has as many as 4,000 people, this could have been an absolute massacre. Everyone should feel blessed that nobody was killed or injured in this instance. However, we need to learn from this.
Malls are an example of a high volume place where a shooter can injure or kill a high volume of people with little effort. It is inexcusable for a mall not to have up to date security or surveillance equipment.
We need to learn from this before something more severe happens. Better CCTV or Intercom Systems need to be installed to make sure a crowded mall such as the Westfield Garden State Plaza can remain a place where customers and shoppers can be in a safe environment.